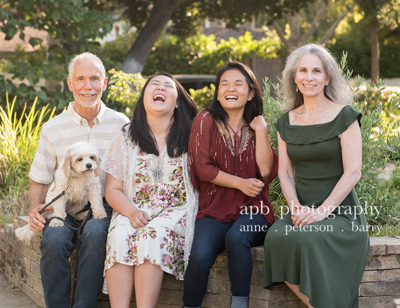 mid•wife: n. A woman who assists women in childbirth.
pa•per mid•wife: n. A hardworking woman, Jill Touloukian, who assists parents in the confusing, exhausting, and ultimately joyous process of adopting a child from overseas.
Since 1998 I've been coaching families as they labor through the pains of the international adoption paperchase. As families are born and grow, my services have grown to include not only comprehensive dossier preparation, but also courier services to all the consulates in San Francisco and the California Secretary of State, and international adoption consultant services.
I've worked with families living around the corner and around the world, helping to adopt children from China, Russia, Vietnam, Guatemala, Kazakhstan, Azerbaijan, Cambodia. And I can assist you, too!
My own family has grown to include two beautiful daughters from China — Alexandra, born and adopted in Jiangxi Provence in 1996, and our Mei-Mei, Georgia, born and adopted in Fujian Provence in 1999, as well as a very supportive husband, Vic.